WooZone Affiliate Plugin Review – is WZone the best Amazon Associates plugin?
What is WooZone/WZone?
WooZone is a very popular Amazon Associates affiliate plugin for WordPress. It is different to others such as Prosociate and AzonAuthority as it uses its'own custom backend for interacting with Amazon's API. The resulting outcome is pretty much the same, you get Amazon affiliate products into your Woocommerce store but there is more to the WooZone affiliate plugin.
WooZone have rebranded as WZone but they are most commonly known as WooZone. Read my full Woozone plugin review and find out what I think of this affiliate plugin.
I just reviewed a new product that in my opinion, beats Woozone, check it out here
Who is WooZone/Wzone for?
WooZone is a WordPress plugin for Amazon affiliates (Amazon Associates Programme) partners to publish Amazon products into a WordPress blog or site by using the Amazon API. WooZone is great for WordPress users and bloggers wanting to create a store section with selected products or the best selling products from selected categories.
How much does WooZone/Wzone cost?
WooZone is offered as a standalone plugin which works with most popular themes out of the box including the free StoreFront theme. The second offering is the WooZone Bundle Pack which is supplied with WooZone, the supported Kingdom theme, Amazon Discount Finder and WooZone Contextual Plugin.
| | |
| --- | --- |
| WZone Plugin | WZone Bundle Pack |
| WZone Plugin | WZone Plugin |
| x | Kingdom Theme (officially supported) |
| x | Amazon Discount Finder Plugin |
| x | WooZone Contextual Plugin |
| $43 | $70 |
| Buy Now | Buy Now |
WZone Version 11 Update
The WZone authors have released version 11 recently. It is a major update and has some cool additional features and improvements.
One of the important updates for new Amazon affiliates users especially is importing images without the API, they are calling it Direct Import Products. They have achieved this by creating a browser extension to grab products from Amazon direct manually.
Another major feature is Wzone Drop Shipping which adds the ability to add products and accept orders whilst Wzone Drop Shipping handles the order process with the Amazon seller. I haven't tried the drop shipping feature but I would recommend AliDropShip if you intend to go the drop shipping route, also check out The Dropship Directory. Dropshipping can be more profitable as Amazon rates are low but dropshipping is more involved – if you find the right product, you can make a very lucrative income from home.
WZone Version 12 Update
The WZone authors have released version 12 which was in beta for a while.recently. There are several improvements but the main new feature is that using the Amazon API key is no longer a requirement. This is great new for new affiliates struggling to be approved for the Amazon API key access.
I will test the new release shortly and go through the new features, if you can't wait, pick up WZone below.
[affiliate_video_pro id="vi15cd555113c657″]
What are the main features of WZone?
The main feature of WZone is to import Amazon products and display them in your own custom WooCommerce store. If you have a blog, you can easily add a separate store feature for Amazon Associates products.
Import Amazon products
Update prices
Use remote Amazon images via API
Import product reviews
Import variation images
Global GEO targetting with multiple store tags
Content spinner
What is required for WZone?
WZone is a plugin for WordPress and requires WooCommerce (both free) to work. Another prerequisite having an Amazon Associates account with valid API credentials although there is a workaround for new Amazon Associates users via a Chrome plugin.
The recommended minimum specification for WZone is:
WordPress 4.0+
Woocommerce 2+
WordPress memory allocation 128Mb
PHP 5.6+ but 7+ better
Woocommerce and WZone are quite intensive plugins and do require a good allocation of resources, read my guide on the best UK SSD WordPress hosting for a selection of UK hosting that will work will with WZone. Alternatively, the following hosts are excellent web hosting companies:
FastComet (review)
Guru Hosting (review)
SiteGround (review)
HostXNow (review)
Krystal Hosting (review)
Amazon Products Import
I created a short sample video showing the Insane Import Mode in action.
The Insane Import Mode has replaced the previous ASIN grabber tools. This is my preferred method to import products in bulk from upto 10 pages in a category. The process speed depends on your hosting as the process is quite intensive. The process first searches for your keywords and specification from within the category specified and then imports the product titles, description, features, variations, images, reviews and any other information specified. Each product is added to WooCommerce and given a unique URL. The content is spun if set to spin text content but I prefer to rewrite the content manually to make it readable and unique.
The other import options are:
Grab Products
Already have a list?
Chrome Extension
Grab Products
Grab products, is the same as ASIN grabber, simply enter the url of an Amazon page type including bestsellers; new releases, movers & shakers; most wished for; gift ideas. Woozone will then grab the products from the given page and you will have the opportunity to pick products to add.
Already have a list of ASINs?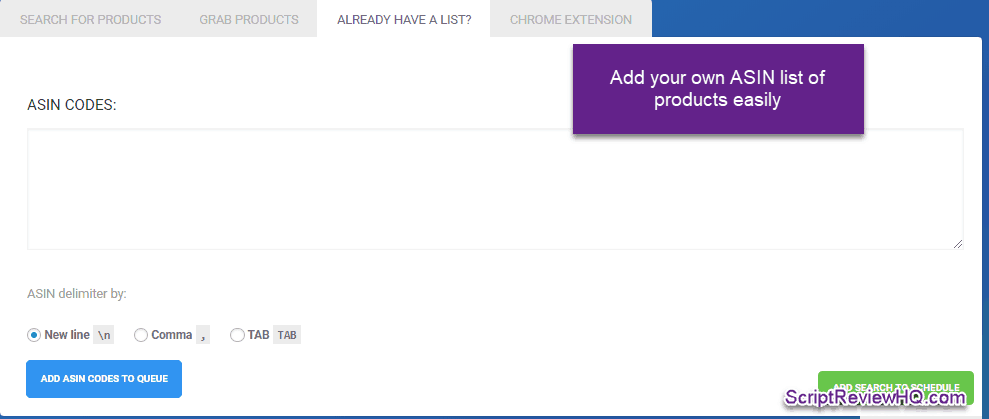 If you have taken the time to research your Amazon products, you will surely have a list of products you want to add from a single or several categories. Rather than waste time searching across multiple pages, just add your ASINs list here and import the products.
Wzone Chrome Extension
The chrome extension is new in version 10, it allows direct product import which is great if you do not yet have access to Amazon API keys. Simply install from the Chrome Web Store and use on any Amazon product page, product list and any Amazon location store.
After installing, simply navigate to any Amazon web store product page or product list and click on the Add Product to List button. The product ASIN will be added to the plugin's list for later import into your store.
When done, you can download a CSV file with the complete product ASIN list or simply copy and paste into the Already have a list product import option. Remember to change the list option to comma separated values if you have multiple products.
You can add products from multiple Amazon store country locations, the plugin will separate the list. When importing, change the Amazon store location in Amazon config to the country you are importing products from then import your products.
There is a drawback to the Chrome plugin, when you do get access to the API, the imported products are not updated automatically as they would be with normal product imports. This will be not be the case in future updates but there is no date yet from the developers.
How to edit Woozone products?
WZone products are the same as normal Woocommerce products, they can be edited using the standard WordPress editor. It is recommended for SEO to edit the descriptions and product text to make the products unique and add more value to the listing.
Conclusion
I have been using WZone for a couple of years but more so now than before, each update adds small features that improve the plugin and make it a great option for Amazon Associates WordPress publishers. The plugin is easy to use and complies with the Amazon Associates terms of service – if you don't have access to the Amazon APIs yet, the Chrome extension is a great addition.
I have tried on very cheap web hosting providers but I have found that if you use a decent web host such as the ones mentioned earlier, you will find that WZone works well and adding products is quick and easy.
If you want an easy, quick Amazon Associates web store as a standalone store or an addition to your blog, WZone is a great option. If you want something to add individual products try Prosociate.
Try the WZone Plugin
Try the WZone Plugin or Bundle