Vidnami Review – Easy Videos that Rank
In this Vidmani Review, I will show you all of the recent updates from my previous review for this amazing app, read the review of Content Samurai here (previous branding) and find out what's new.
Unfortunately, Vidnami has been sold to GoDaddy. As of August 2021, Vidnami will cease to exist as it is. The Vidnami team said GoDaddy will relaunch Vidnami as their own product but there is no timeframe at the moment.
I have been using these alternatives:
– InVideo – currently my favoured choice, plus get 25% off for life via my link
– Yive Video Maker – one-time price with no recurring payments
– WeVideo – my second favourite video tool
What is Vidmani?
Vidnami is an incredible system that allows you to quickly create videos for pretty much any niche you can think of. I have been using Vidnami (or Content Samurai as it was known) for over a year, maybe closer to 2 years.
The videos created looks professional and are very easy to setup with plenty of stock video or stock images available
How much is Vidnami?
Vidnami has simple pricing as they have one package level. The pricing includes all of the royalty-free video, royalty-free photos and royalty-free music.
Monthly $47 – most popular
Annually $397 ($33.08 monthly) – best saving
From the Vidnami pricing table, you can see the features are identical but the annual plan gives a bigger discount.
Vidnami Discount
Vidnami occasionally offer amazing discounts, they have become more sparse but every now and then, they offer upto 40% off monthly plans.
If you can't wait for a 40% discount, I have a special limited-time 25% off Vidnami link that will save you 25% off for life. Just click on this link for 25% off Vidnami.
If you are not sure, you can always try the 14 day free trial for Vidnami.
Vidnami Special Offers
This is a special offer ending on 29th January 2021 for 40% off Vidnami. This may not come around again until November for Black Friday 2021 so grab it now!
Vidnami Demo Videos
Vidnami makes video creation so simple and the provided royalty free video and image library is vast so you can quickly create videos on virtually anything.
These are 2 sample videos I created in just a few minutes.
Vidnami Demo Video 1
Vidnami Demo Video 2
These two demo videos can be used in a single video campaign or a mass video campaign to promote products and affiliate offers with very little effort.
Will Vidnami Videos Get Copyright Strike?
Vidnami uses Story Blocks for the royalty-free videos and images, they are all free to use within your Vidnami videos. I have never had an issue with the audio or video receiving a copyright claim or any strike.
I checked the Facebook group and couldn't find anyone who had reported this issue going back almost 4 years.
The support team at Vidnami are very active and any issues will be dealt with swiftly, if you fear that you may have an issue – believe me, I don't think you will.
Can I Make Money with Vidnami?
Yes, of course! There are many opportunities to make money with Vidnami, you can try any or all of them – it all depends on how much time you want to put into it.
A few methods to make money with Vidnami:
Affiliate product videos
Course videos
Local business videos
Social influencer videos
Pre-roll ad videos
Real estate videos
Video ads
Fiverr gigs
Plenty more!
Vidnami allows you to create and sell videos or offer your services to business to make high quality videos that convert.
What Resolution are Vidnami Videos?
When I first started using Vidnami, back when it was Content Samurai, the only video output was 720p. That was never an issue for me as the videos aren't exactly movies or gameplay videos, they are promo videos, product videos and so on.
Something I noticed recently was the option to switch to 1080p Full HD video resolution rather than 720p, this is available at the Generate Video state of the process, simply click on the "change" link above the Generate button.
With higher quality stock images in the library and the ability to import your own video files, this will improve your output videos making the videos look better on larger screen. Very important if you are showing to potential clients.
720p is a little dated but the quality is perfectly fine for a vast majority of videos, also 720p is quicker to process and download.
New Features in Vidnami
Vidnami is a solid all round system offering everything you need to quickly make videos that convert. They add a major feature or two every year, depending on what the market requires.
Influencer Videos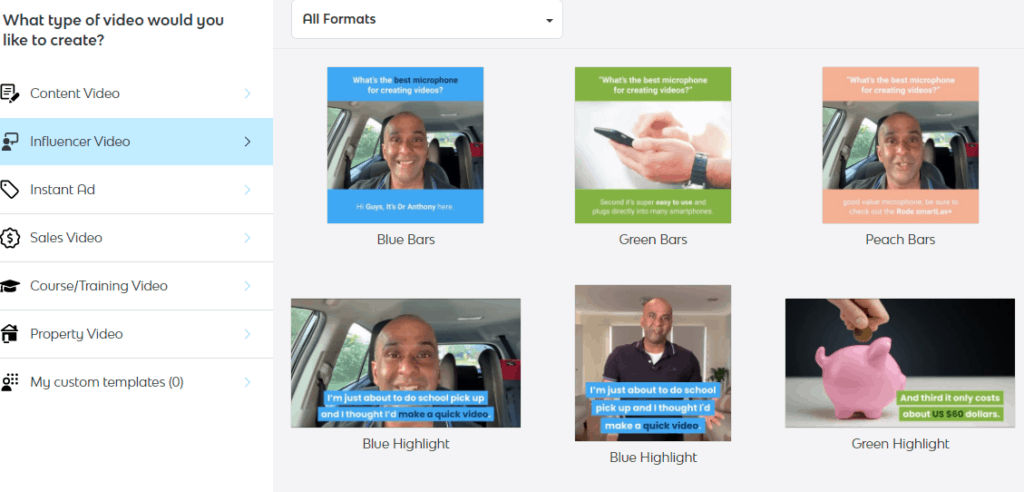 The main new feature for this year is Influencer Video. These videos are your own phone recorded videos or computer webcam recorded videos that Vidnami will transcribe and produce the text onto the video for you.
These are great for mobile platforms such as Instagram, Twitter or TikTok, in fact, they can be used anywhere including YouTube.
Instant Ads
Instant Ads is a set of pre-made templates all sized correctly for Facebook, Instagram and similar ad platforms. They have highlighted bars for text and really pop on mobile devices.
These are the latest major updates to the platform. The service is very stable and processing of videos is very fast, the whole process is very easy to use and the outcome is always professional.
Conclusion
I have been a long time user of Vidnami since it was known as Content Samurai. I was on and off initially but after knuckling down and creating some videos, I appreciated how good the system really was. I made videos for mass marketing that actually converted and I received some affiliate commissions.
I use Vidnami on a weekly basis and in the run up to Black Friday, to make my affiliate product videos really stand out, I use Vidnami to upload custom images and videos clips to really take advantage of the end of year commissions.
There is no other system like it at this price and it is a fully matured product with a great user base and support team. If you are seriously looking to make money in video marketing and don't have the time or skills to spend hours making a single video, you should give Vidnami a try.