LongTailPro Review – Powerful Keyword Research Tool
LongTailPro is a superb tool to find the best and most profitable keywords for any niche you can think of. Find low competition keywords and rank quickly to build site authority in Google. LongTailPro is not just for keyword research, it also has a rank tracker and includes backlink analysis. Try LongTailPro today and see how it can help you boost your rankings on the search engine results page.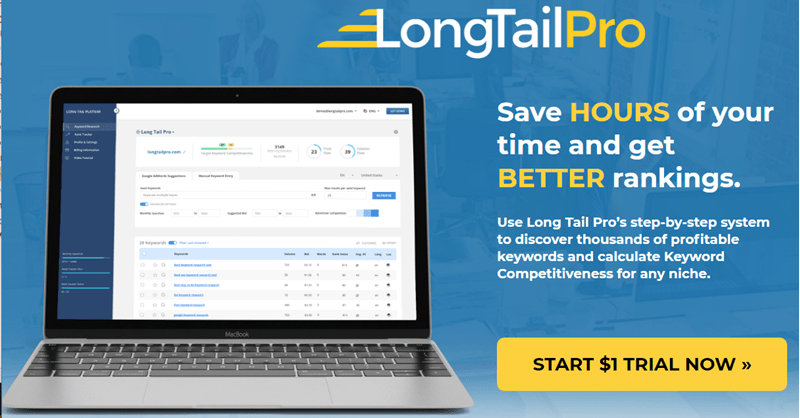 Why LongTailPro?
There are plenty of tools out there offering similar features, some cheap and some way out of my budget. LongTailPro was the most affordable option but also had the features of the more expensive packages.
I love using the Keyword Research tool to find out which keywords to use for my posts, the keyword difficulty, volume and bid are most useful to identify competitive keywords.
I have started using Rank Tracker more recently and have found it to be as good as any other I have paid for, the allowances are a bit low for my liking but I use it for my main keywords on a few sites.
The other tool I use is SERP Analysis, this is useful for displaying the complete picture for a keyword, the SERP results are displayed with competitors and Google results breakdown. The sites in the SERP are analysed and their site analysis is presented in a clear table with several factors such as Domain TF, CF, backlinks and so on.
Using LongTailPro
LongTailPro is very easy to use, there is a simple navigation menu on the left of the screen giving you quick access to all of the tools.
Below that is your remaining allowances for each tool, these are refreshed daily, you can also find this in your account plan settings. I signed up with a special plan so these allowances may not reflect the current plan allowances.
Before you start, you can choose to create projects or just use default. Creating a project is useful for segmenting the tools per project.
Keyword Research
The Keyword Research tool in LongTailPro is very easy to use and understand, I used the keyword "flowers London" and within seconds I was presented with a list of keywords with the keyword difficulty, monthly volume, CPC bid and value. These can be exported to a CSV file and you can choose to display upto 100 keywords.
When using LongTailPro, it is advisable to use the projects option to keep your keyword research and other tasks organised to a particular seed keyword or site name. This helps keep your data together and make it easy to find, sort and export.
Rank Tracker
The Rank Tracker tool is useful to track your sites' keyword ranking, you can set by location and choose from Google, Yahoo or Bing. The Rank Tracker shows all of the recent ranking positions and when the next update is due. It is best to create a project by clicking on the plus icon in the top left corner to segment your projects and keep things neat and tidy.
Backlink Analysis
This is useful to analyse your own site or your competition, for this example I picked a London flower site at random. There is a lot of valuable data presented and if you are unfamiliar it can be overwhelming. Luckily, LongTailPro have a handy feature to find out what the field labels mean, simply place the mouse cursor over the heading to get more information.
SERP Analysis
The SERP Analysis tool is useful to gain an overview for a keyword, this will present you with the SERP data on the competition on the search engine results page. In this example, I used the keyword flowers London, the first box shows the monthly search volume, in this case 1900 with an average difficulty of 38.
The second box shows the strongest competitor with their ranking page a trust and citation flow. The last box at the top shows the Google results breakdown of the SERP, in this case 69% of the results are organic results and 31% are ads.
The main area with the Competition Analysis shows the top 10 results i.e. the first page, each domain is listed with the difficulty, overview of their domain, trust and citation flow as well as backlinks, indexed URLs and site age. All of this is useful to gain an insight into the competition on the frontpage and what you may need to achieve to get onto the first page of Google.
LongTailPro Bootcamp
If you are new to LongTailPro I would recommending heading over to the Video Tutorials for a complete rundown on how to get the best out of LongTailPro. There are currently 14 tutorial videos to get you started with LongTailPro and they are very useful to get started. The tutorial video length varies from 3-23 minutes, some are quick overview videos and some are in depth tutorials.
Cost of LongTailPro
LongTailPro have switched from a standalone software package to an online service offering greater data insight and more upto date date from search engines. There are multiple plans offering different allowances.
If you use the link on this page and sign up for the $1 trial, you will receive a 7 day trial and 10,000 keywords!
Conclusion
Is LongTailPro worth it you are probably thinking? If are constantly writing blog posts and need to find keywords to rank for that are not impossible, LongTailPro is worth the investment. If you are serious about your writing then you need a paid research tool to help you achieve higher rankings rather than wasting half a day using free tools that don't always provide the best data. Not only that, you can write a post then track the rank to ensure that it is performing well. I think LongTailPro is worth the investment, at least monthly to see how it can help you.